How We Became What We Are
The Birth of ISU BioBus
ISU BioBus was started in the fall of 2009 by David Correll, a PhD student in the College of Business focusing on supply chain management for biorenewable fuels, and Bernando del Campo, a PhD student in mechanical engineering focusing on renewable fuel production practices. They would meet for coffee and discuss strategies about how to make the program work and one day Cy visited them and with new found inspiration the program was started.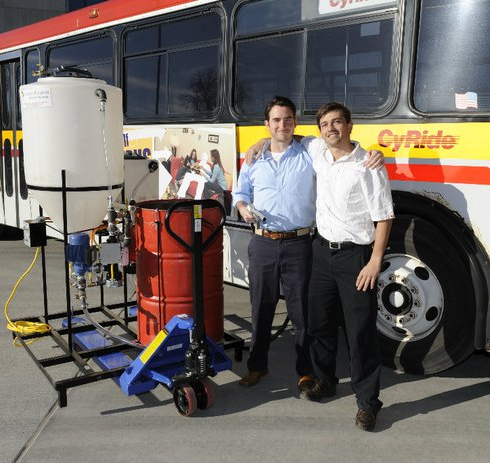 Dave Correll and Bernando del Campo
Raising Funds
In late 2010 ISU BioBus applied for and received several substantial grants from several different organizations. This money allowed ISU BioBus to fund the purchasing of our biodiesel processor and the construction of our "Super Sucker." Some of these organizations include The Coleman Foundation, the Iowa State Pappajohn Center for Entrepreneurship, and the ISU College of Business. We are ever grateful for the generosity of these giving organizations.
Location, Location, Location
In 2010 ISU BioBus was given its first laboratory space in the 3rd floor of Gilman Hall. We were able to start experimentation and construction of possible biodiesel operating systems. We had a place to store our promotional materials and documents. We were very happy with the space we were given. As ISU BioBus grew and obtained more members we eventually gained the attention of our Iowa State colleagues. As a result, after substantial funds were obtained in late 2010, ISU BioBus needed a bigger space to accomadate our processor and "Super Sucker." In 2011 we were graciously given space by the Bio-economy Institute in the brand new Biorenewables Laboratory Building to accommodate our growing needs. We love our space and very thankful to those that have supplied us with such wonderful facilities.